Peace & Love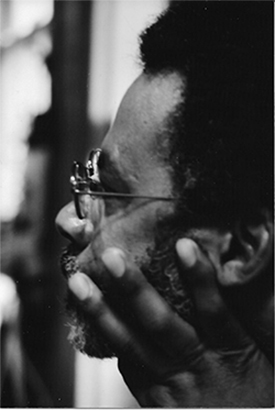 Tony Jackson
Anthony "Tony" Norman Jackson
October 11, 1959 - March 13, 2017

Tony was born to parents Rose & Thomas Jackson, both who predeceased him and is survived by his siblings: Michael Thomas (Corlie), Jeffrey Lewis (Dominique) and Tracy Faith Jackson Goodeaux (Jeff). He is also survived by nieces Imani & Leila Jackson and nephews John, Thomas, Seth, Aaron & Jared Jackson and Christopher & Matthew Goodeaux. Nephew Corrie Joshua Jackson also preceded him in death. Additionally, Tony had many friends who were just like family to him, who loved him deeply and who also share his loss. Tony was born and raised in Washington, D.C. and attended DuPont Park Seventh Day Adventist school until he moved to Texas at the age of 13 and attended Big Sandy High School. It was here that Tony discovered he had sickle cell disease and this changed the course of his life. Tony completed his high school education at Pine Forge Academy in Pine Forge, Pennsylvania. Afterwards he attended Point Park College in Pittsburgh, Pennsylvania majoring in Journalism. Tony loved martial arts which began with Tae Kwon Do at an early age and progressed into other disciplines: Karate, Aikido and Tai Chi to name a few. Tony was a gifted massage therapist and studied at the Potomac Massage Training Institute and excelled at his profession - he was a natural healer and able to touch so many people in this way. Tony took his profession seriously and was always bettering himself by learning new massage methods and techniques and later shared his expertise by teaching others massage at the same place where he got his start. Tony was also a talented vocalist - he took voice lessons for many years and sang at numerous weddings and other special events. Tony lived most of his life in Washington, D.C. and had just recently relocated to Texas, where he enjoyed a quieter lifestyle, closer to nature and enjoyed reconnecting with several of his life-long friends from high school and their families.
Tony loved traveling and had the flexibility to travel for extended periods of time and immerse himself in the local cultures of Belize, Jamaica, South Africa & Grenada. Tony belonged to a co-op in Belize whose mission was to develop a sustainable community and he visited there on several occasions and made many friends who shared his vision of sustainable living, protecting our resources and respecting nature as he had a deep spirituality and respect for the earth and all God's creation. While we mourn his loss, we also celebrate his life and what he meant to us: brother, lover, uncle, friend, therapist, healer. Because we loved him we cannot fight our sadness - he is gone way too soon and none of us were prepared, but we can keep him alive and present in our hearts as we remember his kindness, his comforting voice, his thoughtfulness, his sincerity, his generosity, his encouragement, his caring and his boisterous laugh and most of all, his moniker - "Peace and Love" - words we should all live by - words that gently remind us of Tony, words that comfort us as we grieve his passing and words that celebrate his life.